The YT28 air leg rock drill is most suitable for dry drilling downward and inclined blast holes in medium hard and hard rock with a hardness of F8-18.An ideal tool for rock drill operations in small open-pit quarries, mines, water conservancy projects and road building in hilly areas, and for secondary blasting in large mines. The incorporation of FY200B line oiler with transparent casting provides automatic lubrication during operation.
The Y28 Rock drill can be matched with the FT160BC short air leg or FT140BD long air-leg to use in the basis of the width of rock. Also it can be fixed on drilling-vehicle or drilling-shelf.
Fitting for wet drilling in medium-hard or hard rock. Grouped control mechanism,quick to start up, with "air on ,water on, air off,water off" mechanism,convenient to handle and easy to maintain and repair. Energy-saving and efficient, long service life of parts, parts highly interchangeable and reliable performance.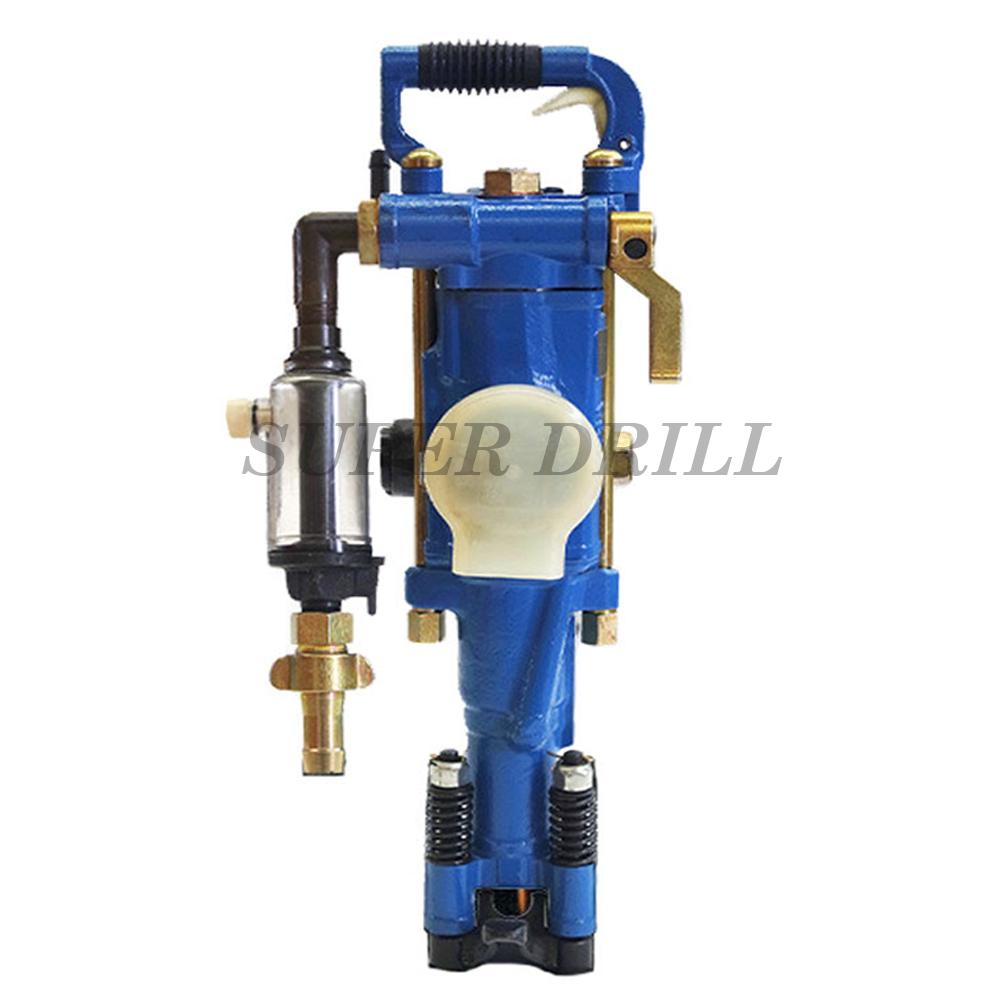 Name

YT28 Air Leg Rock Drill

Cylinder Diameter

mm

80

Piston Stroke

mm

60

Impact Energy

J

≥70 (6.3 Bar)

Drilling impact Frequency

Hz

≥37(6.3 Bar)

Drilling Speed (Grade 14 rock)

mm/min

≥470 (6.3 Bar)

Air consumption

L/s

≤81.6 (6.3 Bar)

Inner Diameter of Air Pipe

mm

25

Inner Diameter of Water Pipe

mm

13(10)

Working Air Pressure

Bar

6.3

Suitable Drilling Diameter

mm

34-45

Suitable Maximum Drilling D

epth

mm

5000

Air Consumption Per Meter

L/m

10.2*103

Shank Dimension

mm

H22*108

Total Weight

kg

27.8

Overall Dimension

mm

670*240*210(L*W*H)



1. Rock Drill machine
Rock drill machine is tuitable for drill rods in diameter of 34-42mm with shank side H22*108+/-1mm.
2.Anti-skidding plastic handle.
3.Control Valve
4. Goog quality spring can assure well shock absorption.
5. Line Oiler
Transparten oil indicator is easy to see the oil level in order to give well lubrication of the machine.